Story by V. Michelle Bernard / Photos by Kamal Browne
After 39 years of serving the Seventh-day Adventist Church, and 28 in the Columbia Union Conference's Treasury Department, Carol Wright is retiring February 1.
"Carol has given stellar service to the Columbia Union," says Dave Weigley, Columbia Union president. "She has contributed in moving the mission forward in so many ways—from her expertise in finance, to her cool, calm demeanor as the Human Resources leader for our office team. She is one of the finest woman leaders in the Seventh-day Adventist Church and an incredible Christian, an inspiration to all. We will miss her."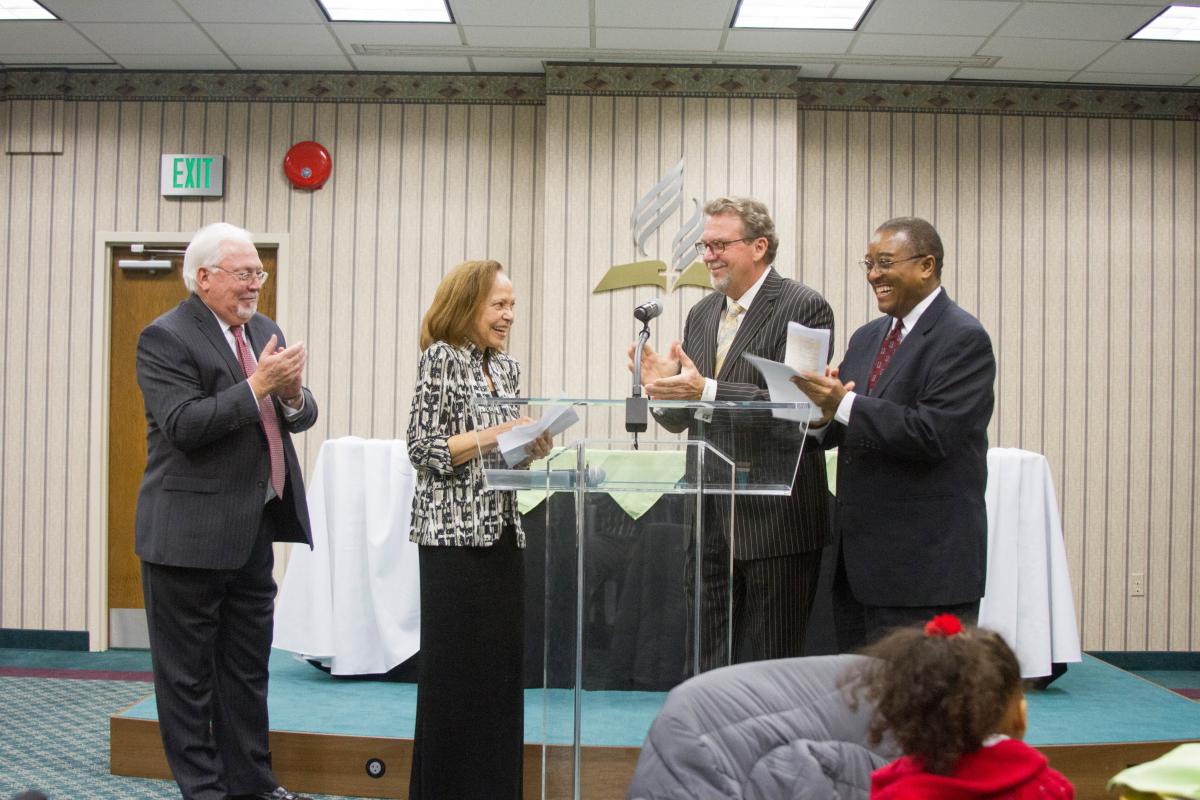 Wright (pictured above between Rob Vandeman, Dave Weigley and Seth Bardu at her retirement party) has worked for the Seventh-day Adventist Church since1978. Before joining the Treasury Department in 1989, she served at Oakwood University (Ala.), the General Conference of Seventh-day Adventists and at the Allegheny West Conference in Ohio. She earned a Bachelor of Science in Business Administration at Washington Adventist University in Takoma Park, Md., and later earned her CPA. She was recognized as one the union's Notable Persons of Honor in 2013.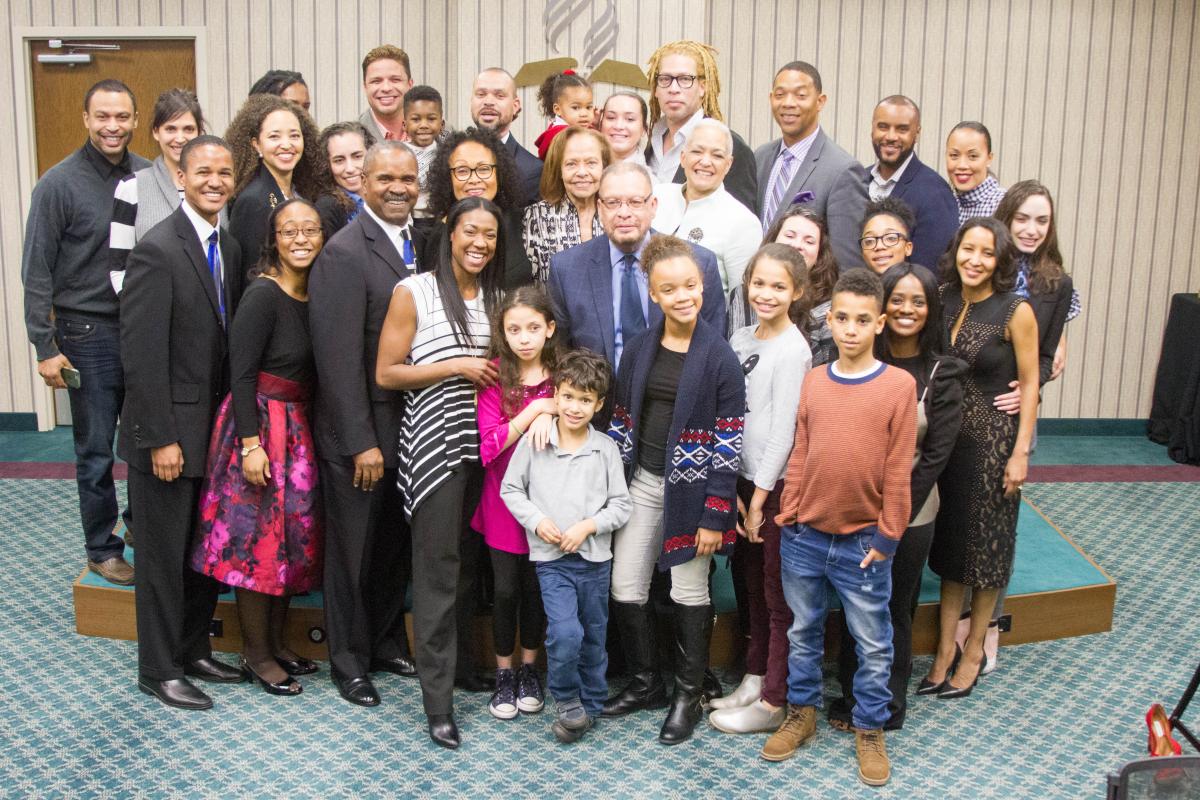 Her son Herbert says she not only has passion for accounting, finance and HR, "She is passionate about her church and passionate about what you all do at the Columbia Union Conference."
Colleague Walter Carson, Columbia Union vice president and general counsel, shares that Wright brought a high level of professionalism, had a great wealth of institutional knowledge and was always caring and compassionate. "She kept us grounded, kept us focused," he says. She pulled no punches--But with a wry sense of humor, reminded us of our mission, always with a smile."
Wright (pictured above with family members at her retirement party) says her time serving at the union has been a privilege. "I've enjoyed the camaraderie, I've enjoyed the spiritual emphasis, never taking our eyes off our mission, why we do what we do. … Thank you for the privilege of allowing me to serve you and to work here at the Columbia Union Conference. It has been my joy, it has been my pleasure and I've very very grateful!"
Besides he role in the office, Wright partners with her husband of 50 years, Henry Wright, senior pastor of the Potomac Conference's Takoma Park (Md.) church. She also raised three sons and has four grandchildren. During her retirement she plans to spend more time with her family, travel and volunteer by reading to children.
Tabita Martinez, associate treasurer, will start her new role as undertreasurer February 1. Martinez joined the Columbia Union as associate treasurer in 2006, was promoted to assistant treasurer in 2014. Prior to that she served as assistant staff auditor for the General Conference Auditing Service at the Southern Union office in Norcross, Ga.
Martinez earned a Bachelor of Science in Business Administration from Southwestern Adventist University (Texas) and an MBA from Washington Adventist University.
"Over the years, Tabitha has served as a dedicated and faithful member of our team," says Seth Bardu, Columbia Union treasurer. "As an undertreasurer, she will be presented with even more opportunities to serve her church in a leadership capacity."
Martinez is married to Robert Martinez. They have three children.
Jane Cermak-Faver, who currently serves as assistant treasurer for the Columbia Union Revolving Fund (CURF) will assume the role of Columbia Union associate treasurer on February 1. "Jane is a highly qualified accountant with great attention to detail," says Rob Vandeman, Columbia Union executive secretary. "Her work with CURF has been a great blessing to the organization."
She earned a Bachelor of Arts in Biology from Washington Adventist University in Takoma Park, Md., and medical doctor and Master of Public
Health degrees from Loma Linda University (Calif.). She also earned a certificate in accounting from California State University San Bernardino (Calif.)
She is married to Steve Faver and stepmother to Matt Faver.