Adventist Education in the Columbia Union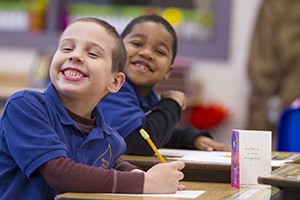 Within the seven states and the District of Columbia that comprise the Columbia Union, more than 450 teachers meet and pray daily with nearly 6,000 students, Pre-K through 12th grade in 78 schools. This daily commitment to go beyond delivering quality education is the mission of the Columbia Union Education System which is a part of the North American Division of Seventh-day Adventists as well as the worldwide General Conference of Seventh-day Adventists.
The Columbia Union Education System consists of 60 K-8 schools, 10 K-10, 5 secondary schools, 3 K-12 academies and 2 colleges: Kettering College in Dayton, Ohio, and Washington Adventist University in Takoma Park, Md. Including the colleges, total enrollment is nearly 9,000.
About Jennifer Wakefield
Jennifer Wakefield is your point of contact for general questions relating to the Columbia Union Office of Education. With more than 16 years serving as their Administrative Assistant, Wakefield enjoys all aspects of her job. Her favorite parts are planning events for the Office of Education and helping those that call or stop by her office. Wakefield earned a Bachelors of Science in Journalism/Mass Media from Andrews University.
Office: (410) 997-3414, ext. 551
Email: jwakefield@columbiaunion.net